When art imitates life — a little TOO well.

If you don't recognize the guy at the left, don't worry. You probably recognize his work.
Daniel Moore is the 2005 Sports Artist of the Year, although in the state of Alabama, he's really been the only sports artist of record for an entire generation.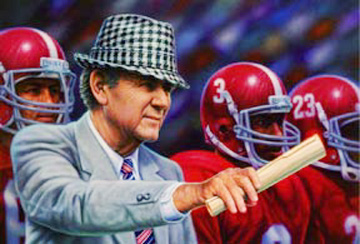 Remember that postage stamp honoring Coach Paul "Bear" Bryant? Moore did that one. He also did the stamps for Pop Warner, George Halas and Vince Lombardi. He's more well-known for photo-realistic depictions of turning points from crucial games. You can see them in athletic departments, and in the dens and offices of rich (and not-so-rich) fans and boosters across the Southeast.
Anyway… now he's being sued by the University of Alabama in a licensing dispute.


The university's lawsuit, which Moore said he received via fax on Friday, claims Moore has violated trademark law and marketed some products with Crimson Tide images without paying licensing fees.
It seems the University isn't going after Moore to be vindictive — it's a matter of not establishing a precedent by letting people walk all over their trademarks. But Moore's attorneys say a 2000 case involving Tiger Woods set the legal standard that art is free speech, and is not subject to license fees based on content.
I don't know the ins and outs of the legal briefs, but I do know this: the university isn't winning the PR war.
In his own news release, Moore states:

"Dr. (Finus) Gaston conveyed the University's position as being that a mere depiction of an Alabama sports uniform in a Fine Art Print is cause enough for the work to be subject to licensing—even if it did not include a depiction of a registered trademark of the school itself. "
Wow. That seems rather greedy, and according to an online poll by AL.com, 85% of the respondents voted no on the question "Should Daniel Moore have to pay licensing fees to the University of Alabama?"
I know the University took a long time to eventually file an action. But it does make you wonder whether the guardians of the school's images won out over the guardians of the school's reputation. Even if UA wins… it loses.